Audi Genuine Alloy Wheels
Audi Original Winter Tires1 come already mounted and balanced on premium alloy wheels, to make seasonal tire changes quick and convenient. Technically superb and rigorously tested Audi Genuine Alloy Wheels feature:
 • Precision casting and metallurgy, for balance, performance and strength
 • An advanced multi-coat finish, to help resist harsh winter conditions
 • Premium styling, to complement your specific Audi model
Testing their mettle.
To help ensure uncompromised performance and strength, Audi Genuine Alloy Wheels are subjected to a rigorous battery of tests, including: 
• Curve rotation testing: An endurance test of cornering performance to verify structural integrity and casting quality.
• Radial impact and ridge testing: Simulates lateral impacts with curbs and vertical impacts with potholes. An essential test of performance on rough and uneven roads.
• Acid, salt and extreme-climate testing: Multilayer paint and protective coatings are exposed to harsh UV, weather and corrosive forces to help ensure their integrity even under severe conditions.
• Regulatory compliance testing: Helps ensure that Audi Genuine Alloy Wheels meet U.S. Government requirements.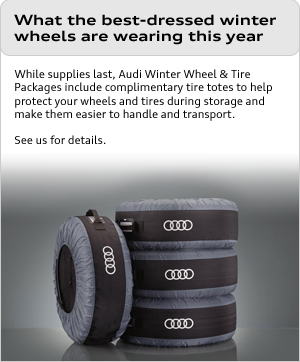 1 When driving during cold, snowy or icy weather conditions, ensure that your vehicle is equipped with appropriate all-season or winter weather tires. Even with appropriate tires, you must always drive in a manner appropriate for the weather, visibility and road conditions. Tires are supplied and warranted by their manufacturer.